This guide will be a fabulous guide to help you ladies and gentlemen encode anime to mini-sizes.



Requirement

(google them)
-Avisynth 2.58 or later
-Megui _ the installable version
-Nero AAC + Besplit
-Codec Pack (K-lite Mega pack or CCCP)
-Preferred Filter Tweaker for Windows 7 (if on windows 7) -Aegisub -Encoder Sub File [REPLACE MY ENCODER NAME WITH YOURS USING AEGISUB]
HELLO PEOPLE-BEFORE YOU PROCEED TO THE ENCODING TUTORIAL PLEASE WATCH THIS TWO VIDEOS ON HOW TO MAKE A SUB FILE [EXAMPLE-ENCODED BY QUADREX5600] PART ONE VIDEO PART TWO VIDEO


Installation


1-Install Avisynth and your Codec Pack.

2-Install Megui and open it.


Magic Start


3-If it asks for updates, don't do it. Rather go to:
Options > Settings > extra config > configure servers.
Now change auto-update server to development and click OK. Go to Main in the settings and choose your "default output directory" if you want your files to be encoded to somewhere beside the original folder.
CLICK SAVE !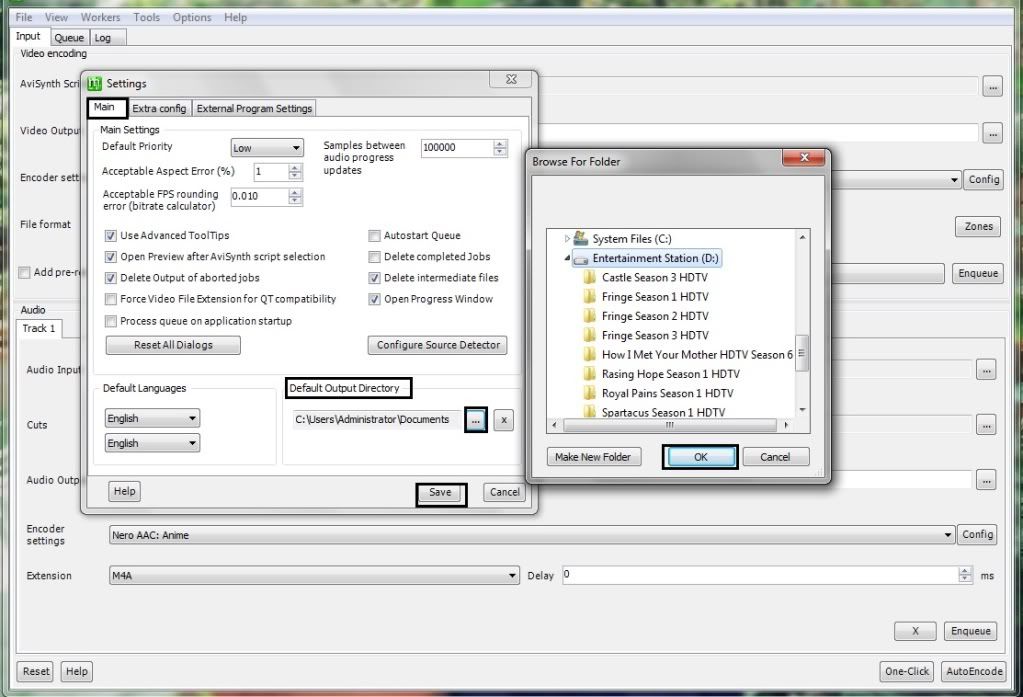 Go to "External Program settings", and browse for the neroaacenc.exe you downloaded.
AKA This:
Now Options > Update, and update everything you can update. Restart megui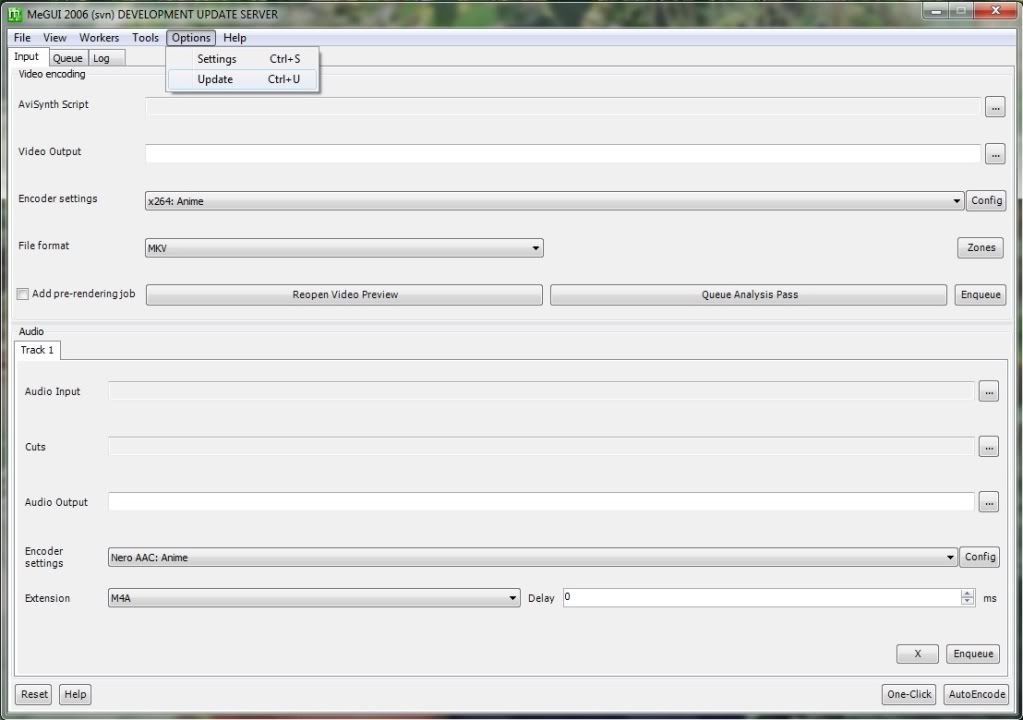 4-Now Tools > File indexer

5-Put your file in the "input file" place. Then click on "Queue".
Now go to Queue tab on the main megui interface. Notice you have "Name" job 1, that's what megui gonna do now once you press start. Press it. Now indexing this file gonna take so much time ~30 sec~ usually. Once it's done, the magic begins, avisynth script creator will automatically open.

6-Close the Preview Windows you get.

7-Click on config next to Avisynth Profile > Extra Setup:
Check resize filter and choose Spline36(neutral), and check Noise Filter Minimal Noise, make sure Clever (TM) anamorphic encoding is set to resize to mod16. Click on New (look down on the window), and choose a name (ie: Anime) then click ok > update > ok. Now back to avisynth creator, you can choose Anime profile, choose it. You should now see Resize is active, you just choose the resolution you want. Now move to Filters, check source is anime and insert the Encoder Sub File. Once it's done click SAVE.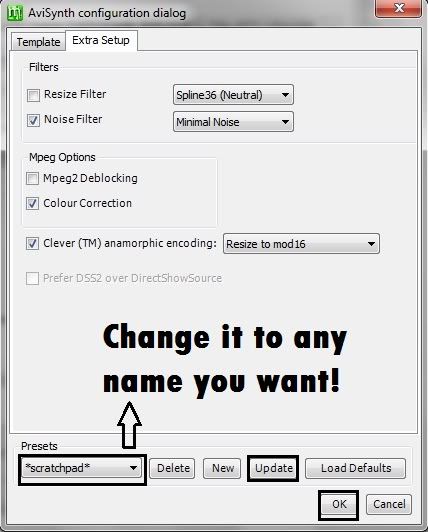 8-Now you're back to the Main Megui window. Close the preview.

9-Click on Config next to encoder settings.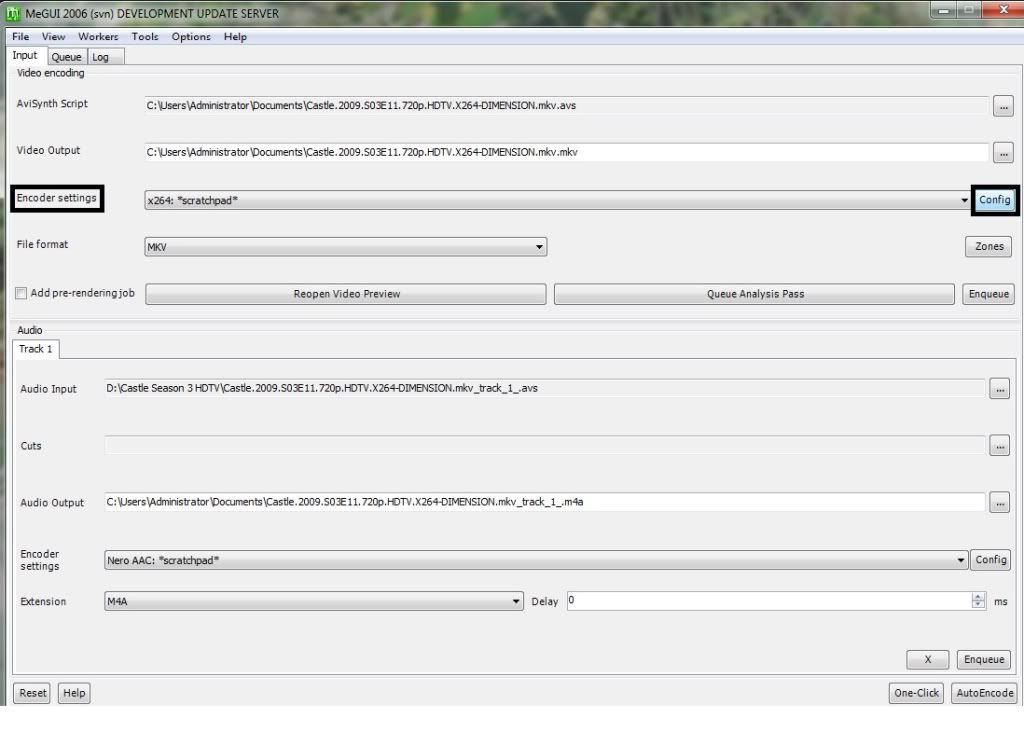 You should see a simple window where there is: Modes/Tunings/Presets.
In modes choose target filesize and put in 300 for bitrate.
In tuning choose Animation and in presets choose:
Slow (for a balanced speed quality ratio, quality will be somewhat around DL quality, sometimes better)
Slower (recommend one for quality boost while average speed, use this to reach nice encode for small size)
VerySlow (you'll get top notch quality here but speed is lower than average, might take you hours depending on your PC)


Now whatever preset you chosen, click on "show advanced Settings", go to Rate Control, and choose "Auto-variance AQ (experimental)" instead of "Variance AQ" under Adaptive Quantizers.
Once you're done, click on new and name your settings (ie: Anime) then click update and then OK.


10-Now you should go back to Megui main tab.

11-Now on Audio Input, browse for your original file (the mkv/mp4 etc....) For encoder settings, choose any nero aac one then click config and change what's inside to this:
Output Channels: Downmix multichannel to Stereo
SampleRate: Keep original
check normalize peaks to 100
Choose Variable Bitrate and change it to (Q=0.13)
Click New > name it> update it > press ok.
Extension = M4A
It should look like this=

12-CLICK AutoEncode
A new window opens, make it like this:
Container: MKV
Name of output: browse where u want
Size and Bitrate > File Size = 60 MB if you have a 22-25 min anime.
Click Queue.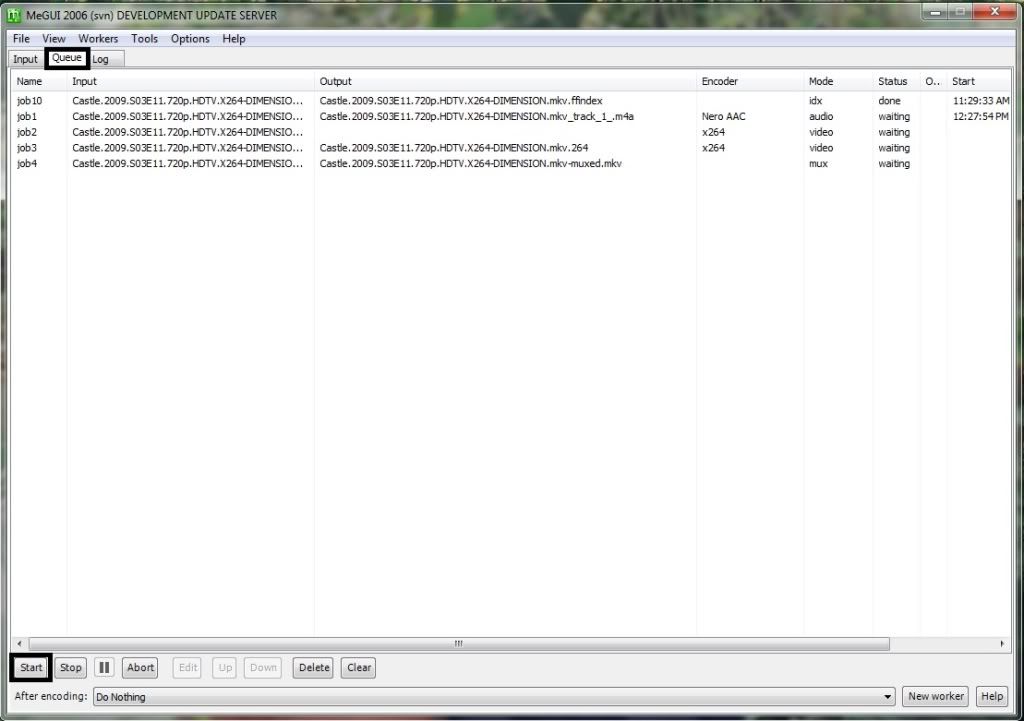 13- CONGRATULATION, YOU MADE A 200-300-400 MB FILE INTO 60 MB FILE WHILE KEEPING A NICE QUALITY. GOOD JOB DAUGHTERs & SONs ^_^